Quote:
---
Originally Posted by mlbman (Post 1305119)
Where were you when this was released.... Feel free to share any memories on this question.

Post any thoughts or memories you might have of those days....
---
I completed tenth grade in the spring of 1967. It was a year of further refocusing away from the things of my childhood to the things that would occupy my interests in my early adult years. (And here I'm not talking about the girls aspect because that's the obvious one.)
During the school year I maintained the study habits I'd developed at boarding school in Kennebunkport, Maine the previous year. I was equally good at both number crunching and the humanities and I was put in the grade eleven "brain" class. That meant we were the class out of eight classes at the school "privileged" enough to take an extra credit, either Geography which I took or Spanish, in addition to English, French, Latin, History, Mathematics, Physics and Phys-Ed. My single minded focus was to get the best marks in the class (which I succeeded in doing in grade twelve). I was quite simply a bookish nerd and hung around at school with the other nerds. The prodigious feats of info absorption of which I was capable such as memorizing word-for-word several pages of definitions from the back of my science textbook now make me cringe when I think back on it. While I suppose my academic aptitude probably served me well into my adult life, I can't say it was a happy time in my life. It was simply nothing but a grind.
One happy side effect of my devotion to my studies though was that I had all exemptions from my final exams meaning that I finished the school year in May a couple of weeks earlier than most students. Most of the summer I spent hanging out on the street or at Thames Park with the other neighbourhood kids including the girls. I had the best radio, a really large strap-held transistor radio with which we listened to CHLO in St. Thomas which was the local Top 40 radio station! By then of course I was much too old and sophisticated to play baseball like some little kid.
The only comic I bought in 1967 was
Doctor Solar
21 and that was the last comic I would buy until mid-1972.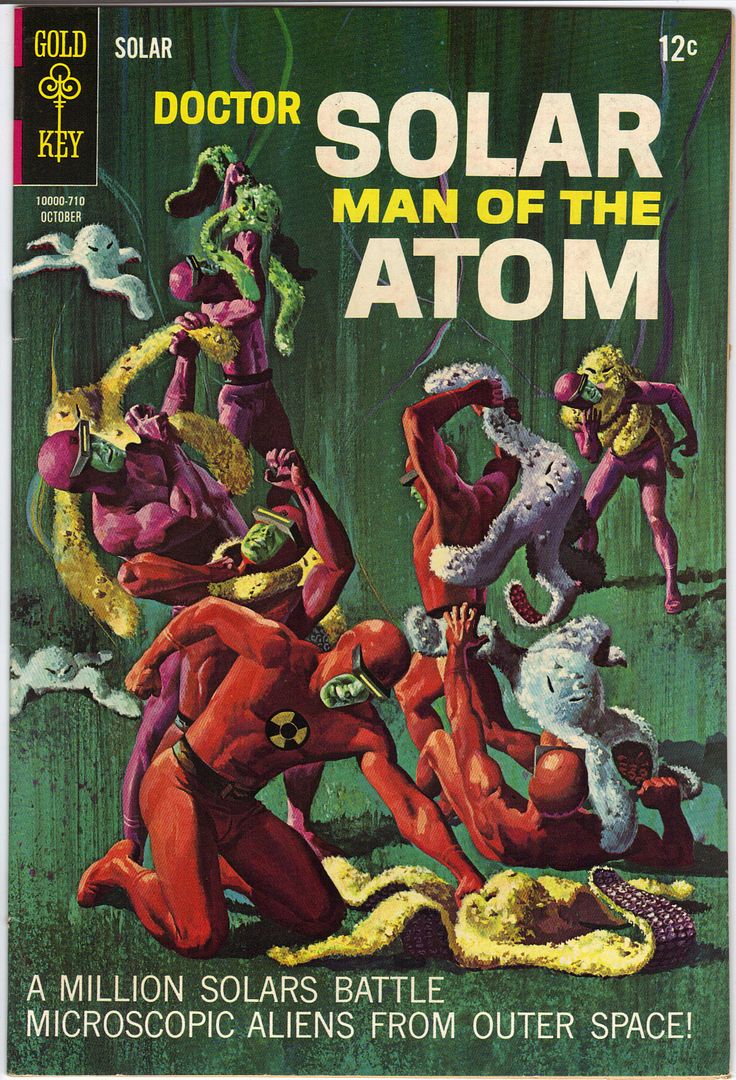 Nor did I renew my subscription to Warren's
Eerie
magazine when it expired.
What I read in their place was the local
London Free Press
newspaper. And we had a subscription to
Time
magazine which I absolutely devoured from cover-to-cover. To this very day I know who the leaders of the countries in the news such as Vietnam, Israel, Egypt, Jordan, Syria and Algeria were in 1967 and even many of Canada's cabinet ministers but by a few years later I'd completely lost track with all the changes.
I continued to read for recreation. I can't recall what I was borrowing from the local library, but I took up buying and saving all the Pan James Bond paperbacks:
I wanted to be like James Bond of course with all these gorgeous women draped all over me! I didn't realize at the time how troublesome that would likely prove.
I'd lost interest in most of my other childhood pursuits although I still built the occasional model plane. I believe that the last three I built were in 1967: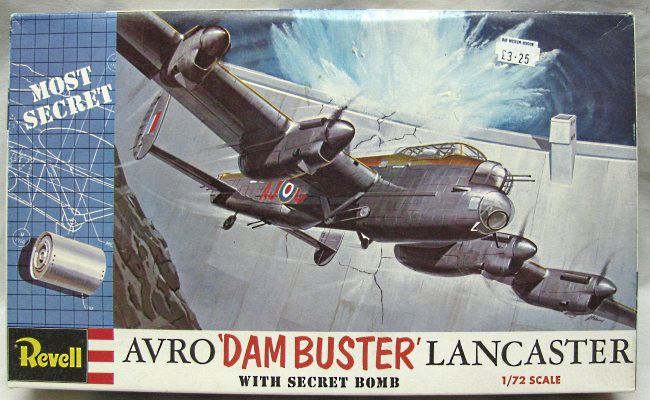 Both my Monogram Ferrari 330P/LM slot car and Cox Spitfire with the .049 Thimble Drome engine just sat gathering dust, however.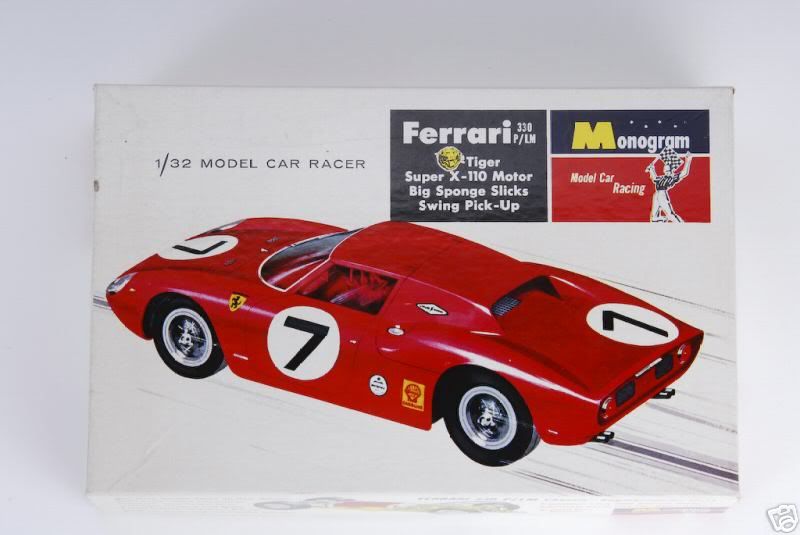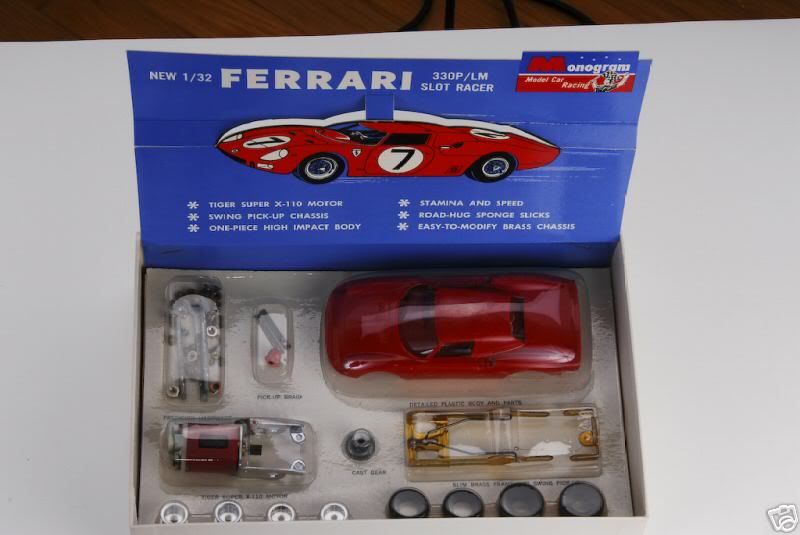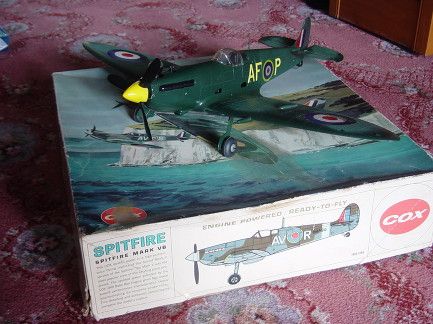 TV still wasn't a big part of my life. I'd watch the televised games during the CFL season but there were no more than two or three per week and I'd watch the Stanley Cup Playoffs. I'd usually watch the reruns of
Wild Wild West
after school and often
The Beverly Hillbillies
and
Voyage to the Bottom of the Sea
and sometimes
Bonanza
or the
Ed Sullivan Show
on Saturday and Sunday evenings but that was it.
I did get to take the train to Montreal to visit Expo 67 in the company of twenty or so other Lithuanian kids from the London area. Everything about the trip was a thrill. I stayed at a grownup second cousin's house in the Montreal neighbourhood of Westmount and thoroughly enjoyed both the world's fair and the entire experience.
The summer of 1967 also heralded the start of my working life when my father placed me on a tobacco farm just north of Delhi in late July for a five week stretch. My horizons were further expanded when I got my trembling hands on the September issue of
Playboy
in the bunkhouse: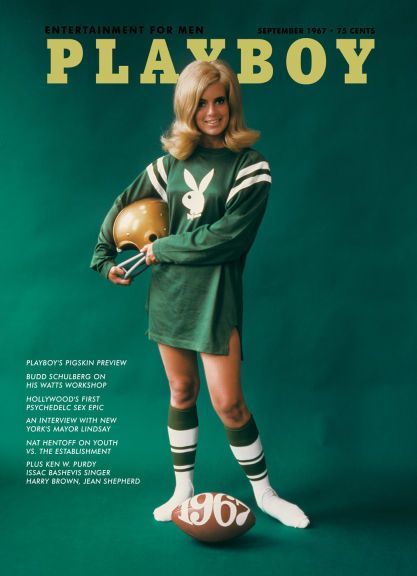 As the gatefold attraction the issue featured the luscious Angela Dorian, a.k.a. Victoria Vetri, who went on to become the Playmate of the Year:
When I got back home just before Labour Day, I had $495 in my bank account and I was fully intent on buying some of the records to which I'd been grooving on the radio. I went ahead and made the new exotic Beatles' album,
Sgt. Pepper's Lonely Hearts Club Band
, my first purchase at Bluebird Records in downtown London: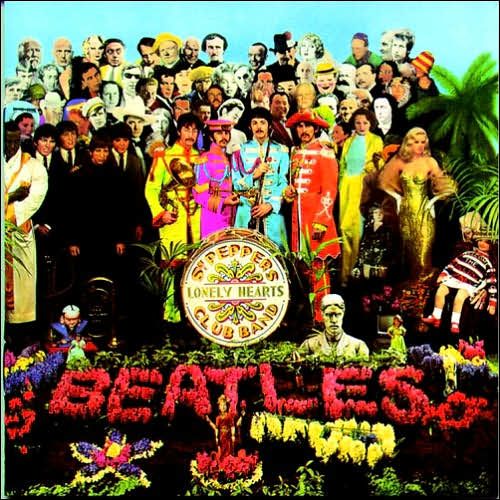 I quickly followed up this purchase by acquiring the Beatles' first three Canadian albums,
Beatlemania
,
Twist and Shout
and
Long Tall Sally
.
I then stepped outside the box in October and bought
Big Hits - High Tide and Green Grass
by the Rolling Stones. I was floored! I found the Stones' record far edgier than the comparatively tame Beatles' albums. Then of course there was the innovative for the time booklet of their pictures included within the double sleeve: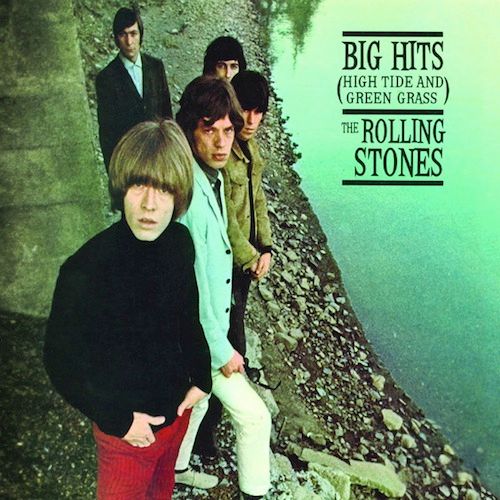 I wasn't entirely sure which Stone was which at the time but the brooding, mysterious Stones appealed to me in a way the Beatles did not. I went out and added
Flowers
and then a few more Stones' LPs to my swiftly growing record collection within a few weeks.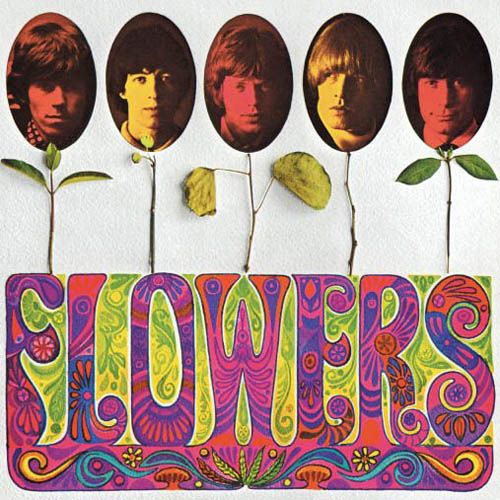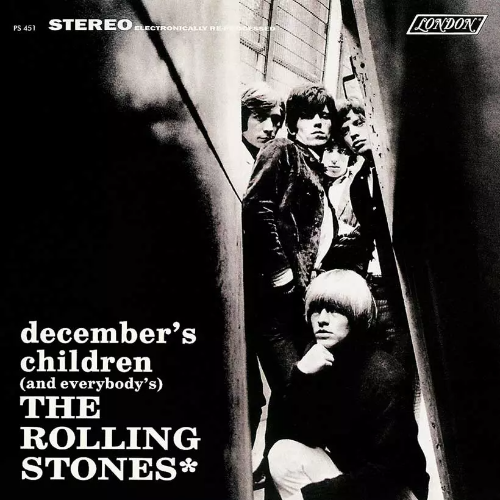 By December I believe I'd bought these LP's by other groups as well: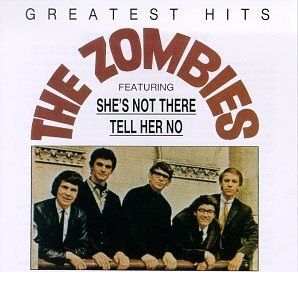 Note the absence of bands such as the Monkees whom I knew had been created to target pubescent girls. My intent was to buy the LPs of only those groups/artists that fit my category of "serious" rock musicians. I pursued my record buying, collecting and cataloguing with the same intensity and focus that I'd previously applied to my bubble gum card and comic collecting efforts. As a result within a year I had a shelf of records far exceeding that of any classmate or kid in the neighbourhood.
I also immediately aspired to replace our family's little mono record player that had been bought used in 1962(?) with a Seabreeze stereo record player with detachable speakers. But my father was adamantly opposed to such a profligate waste of money since we already had a "perfectly good" record player so I put that project on hold for the time being. It would be resurrected though!
And now here I am today, still very much a fan of rock music and hi-fi stereo components. Moreover I'm still a huge fan of the model kits, comic magazines and other sundry kid stuff from my formative years! I continue to be a fan of James Bond movies and vintage
Playboy
magazines up to about 1970 but
Playboy
has for decades now struck me as being too sanitized with its "wholesome" airbrushed models.
:lol: